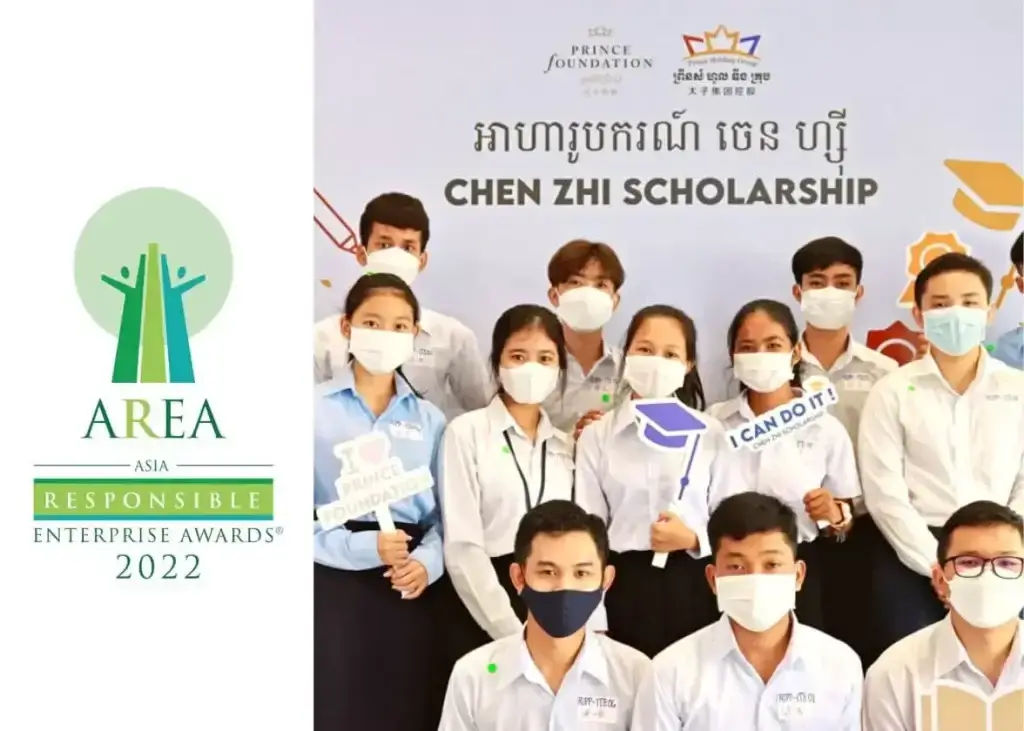 For the second year in a row, social empowerment continues to be at the heart of Prince Foundation when it bags the Asia Responsible Enterprise Award (AREA) 2022 organized by Enterprise Asia, a non-governmental organization that recognizes entrepreneurship across the region.
Awarded in the Social Empowerment Category through its flagship scholarship programme – the 'Chen Zhi Scholarship' initiative, the achievement reflected Prince Foundation, the philanthropic arm of Prince Holding Group's ongoing efforts in bolstering human capital in Cambodia.
Key Facts on the Chen Zhi Scholarship:
Total investment of US$2 million for 400 eligible students across seven years.
Covers full tuition fees, monthly stipends, internship, and employment opportunities.
Awarded 100 scholars this year, selected from 1,500 applicants.
With a keen focus on education and youth development, the Chen Zhi Scholarship is the key initiative among numerous projects by Prince Holding Group to support capacity building through education.
According to Gabriel Tan, Chief Communications Officer of Prince Holding Group, the scholarship programme is part of the Group's vision of advancing the Kingdom's human capital capabilities through public-private partnerships.
"The inception of the Chen Zhi scholarship comes about due to our Chairman's belief in the power of education to elevate and empower communities. We are honored and humbled that our CSR initiatives continue to receive recognition as we play our part towards building a better future for Cambodia, – said Gabriel Tan."
Prince Foundation is committed to three pillars: Education and Youth Empowerment, Healthcare, and Community Engagement. Over six years, the Foundation has donated over US$14 million, benefitting the lives of more than half a million Cambodians.